Zoom vs. Skype vs. Teams
Zoom may be the most used videoconferencing platform in the world. They launched in 2013 but started to grow at the beginning of the COVID-19 pandemic. Zoom has over 500,000 business customers and over 3.3 trillion annual meetings. Zoom has generated $1.02 Billion in revenue, a 54% increase from last year.
Zoom is continuously growing its brand, but let's pinpoint how it beat other videoconferencing platforms such as Skype and Microsoft Teams. Here is an overview of how and why Zoom increased in the videoconferencing industry and others decreased:
About Zoom
Zoom is a videoconferencing software program developed by Zoom Video Communications. The founder of Zoom, Eric Yuan, began his career at Webex and discovered that there were too many unhappy customers. After gaining direct customer feedback, he learned they needed a cloud-based conference room solution with good voice-over IP and video quality. Since Webex was not designed for that, he left, used his knowledge, and built Zoom. Zoom focuses on making video calls as frictionless as possible. They ensure it evolves based on customer needs; Yuan sometimes personally replies to tweets to satisfy users.
About Skype
Skype is software that enables the world's conversations. Millions of individuals and businesses use Skype to make free video and voice one-to-one and group calls, send instant messages and share files with others on Skype. Skype was initially successful and gained a large customer base, but over the years, they have faced a little competition with other videoconferencing platforms. There are a few potential factors as to why skype was unsuccessful in sustaining its position as a front-runner in the market. One aspect is that it needed to keep up with the rapid pace of innovation in the videoconferencing industry, and its competitors were able to offer the latest and other advanced features. Additionally, Skype struggled to adjust to user preferences and behaviour changes, leading to a decline in popularity.
About Microsoft Teams
Microsoft Teams is a collaboration and communication platform and is part of Microsoft's Office 365 suite of products and is designed to provide a centralized workspace for teams to communicate, collaborate, and share files and other resources. Microsoft Teams have faced competition and challenges in the market and may not be as successful as some of its competitors in certain areas. Teams may have achieved a different level of success from other platforms because it is part of a broader suite of products and may have a different focus than other platforms.
It is important for businesses to study their competitors to improve their marketing because by understanding your competitors, you can develop strategies to differentiate your products or services and better appeal to your target audience. For more information, visit here. Overall, the decline of Skype and Teams can attribute to various reasons, and it is difficult to pinpoint its decline precisely.
Zoom's Success
Zoom is successful because of its monetized product, Freemium, a free 40-minute meeting call then $15/month for users who require longer meetings. Another reason they succeeded was that they focused on telemedicine and education. They entered into agreements with several universities, which allowed Zoom to focus on one or two markets and later expand into others when the time was right. In summary, Zoom succeeded because of talking to customers, simplifying use, freemium, and landing and expanding. Due to the global pandemic in 2020, Zoom benefited and became the leading videoconferencing platform in 2021.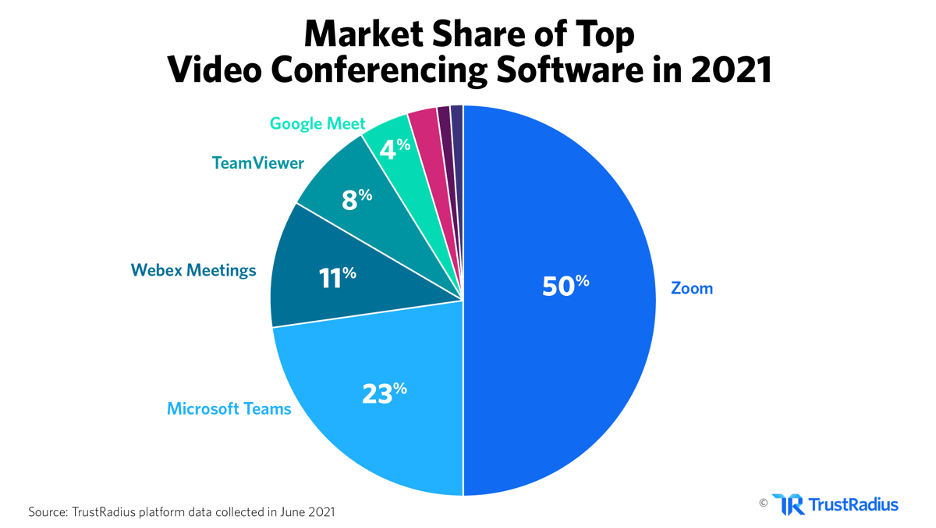 Retrieved from: TrustRadius
A critical factor contributing to Zoom's success is the focus on user experience and simplicity. It is intended to be easily used, with a user-friendly interface and instinctive controls, which is how zoom is becoming popular with a wide range of users, even those who are not computer literate. Another factor is Zoom's commitment to originality and constant improvements. They often release updates and new features to improve the user experience and deliver more significance to their customers. It has assisted in retaining Zoom, being ahead of its competitors, and continuing its position as a front-runner in the video conferencing market. Overall, Zoom's success attributes to its focus on user experience and simplicity, commitment to originality, and constant improvements, which makes it a popular selection for businesses, schools, and other establishments looking for a high-grade video conferencing solution.
How Zoom Became the Best Videoconferencing Platform
Zoom stood out from every other platform because it had a different approach to online conference calls using a "video-first" strategy. Other platforms used audio as their main selling point; Zoom was the first to emphasize the visual side. Before Zoom, video calls were expensive and were the first platform to offer free services. After other platforms provided free services, Zoom established its reputation, a loyal customer base, and high-quality video calls. Their strategy involved visual features such as mobile phone screen sharing. They are more mobile-friendly compared to other alternative platforms. Their strategy involved visual features such as mobile phone screen sharing.
Moreover, Zoom's strategy differentiated them from its competitors and allowed them to establish its reputation as the more ground-breaking and revolutionary option for video conferences. Thus, it made them exceptional and simultaneously better. Here is a list of reasons why and how Zoom became successful:
1. Easy to use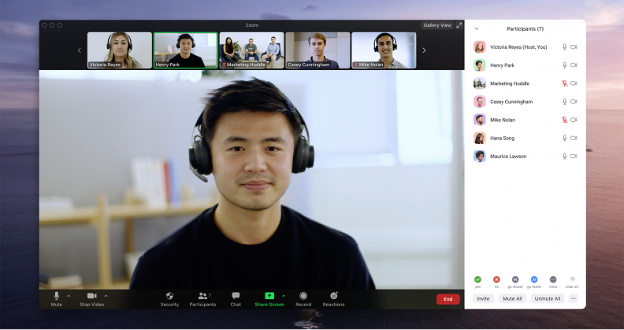 Retrieved from: Zoom
Zoom's leading reputation is for being easy to use, which is how it gained popularity. Zoom does not need people to make an account to attend a meeting. However, they need an account to set up and schedule meetings. According to ForbesAdvisor, every meeting invite includes a prompt to download the Zoom Meetings app, though users can connect via a web app if they prefer. While Microsoft Teams and Zoom have a similar process for joining a meeting, many users find that Zoom has a more direct and glitch-free meeting.
2. Features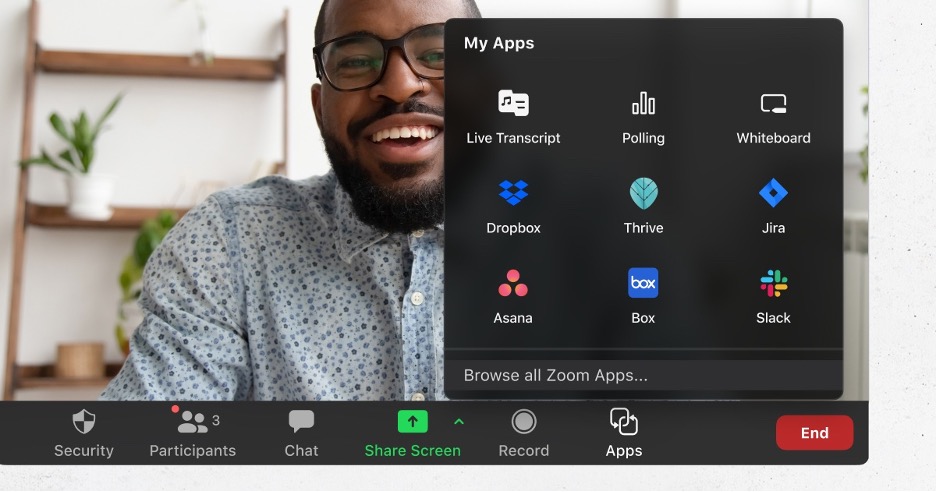 Retrieved from: Zoom
Zoom offers a variety of features such as screen sharing, remote control access, basic whiteboard and chat features, noise reduction and light adjustment depending on your environment, and transcripts for business plans, as well as up to 1,000 participants. Here are a few more features of Zoom:
Allows collaboration with up to 300 UR and external non-UR individuals, including chat, annotation, whiteboarding, and breakout rooms.
Presenters can share their whole desktop or individual applications.
Primary camera view will automatically toggle to the active speaker.
Browser, client, and plugin scheduling options, including delegation for co-hosts and schedulers.
Record meetings locally and upload them to Blackboard Learn, Box, OneDrive Video, or YouTube.
Zoom sessions can be expanded to allow larger groups, up to 500 interactive participants in Large Rooms, or 10,000 viewers via Zoom Webinars.
Feature-rich mobile apps for iOS and Android.
Cloud recording storage capacity: Business accounts get to have 50GB for ten users.
Zoom offers additional storage from $10-500/month up to 5TB.
3. Security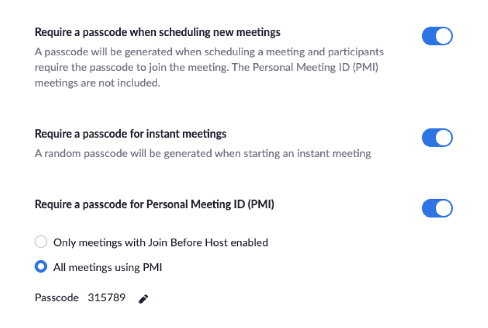 Retrieved from: Zoom
Zoom offers several tools to protect meetings, help manage participant activity, information sharing, and more. Zoom is committed to protecting your privacy. Zoom has designed policies and controls to safeguard the collection, use, and disclosure of your information. Zoom has end-to-end encryption, which ensures that communication between all meeting participants in each meeting is encrypted using cryptographic keys known only to the devices of those participants. Additionally, their secured communication has only the intended recipient that can read the protected message, ensuring that the session cannot be interfered with. Although many users have seen many malfunctions with its security, Zoom has responded to users impressively and did not try to hide security issues. One issue they resolved was that Zoom no longer placed the meeting ID on the title toolbar because many people previously displayed their meetings or chats with friends via social media, and not everyone obscured their meeting ID which allowed uninvited guests to crash the chat. Another feature they have enabled was hosts being able to lock their meetings or remove participants. Additionally, it restricts users in the meeting to change their names or share their screens. Thus, Zoom having security issues is not a big problem as they quickly fix them and aim to make the service more secure by default.
4. Pricing
Zoom has various plans with different features, each ranging from $0 to $25+. Zoom even has an extended list of add-on plans for users who want to complement another feature with their existing subscription. A few add-ons they have are large meetings with a capacity of 500-1000 participants for only a $50 monthly fee. Another would be getting extended storage options up to 5TB for a starting price of a $10 monthly fee. In Zoom's decision tree, they had to determine if they would choose free trial or freemium. They knew that offering a free trial would be powerful because users wanted to retain access at the end of the trial. However, videoconferencing is different as you don't lose anything when switching providers. Zoom understood the dynamic and decided to go through with a freemium. Their next step would be choosing between 2 types of freemium: perpetual or faux-free. Even if Zoom tried a perpetual free plan, it would be challenging because more organizations want a simple videoconferencing solution. Giving away core functionality would have risked severe revenue loss. Moreover, Zoom decided to go with a faux-free plan, where you get free access to a product up to a certain level of usage, to when you have to upgrade to a paid plan.
Conclusion
To summarize, Zoom is the best videoconferencing platform due to its impressive growth over the years. Their originality, and continuous improvements, helped the company take advantage of the COVID-19 wave of companies that had to quarantine at home and work from home. Zoom leads the videoconferencing market because it offers a freemium with a variety of features that other platforms have failed to provide. Here is some information on how to grow your business quickly.